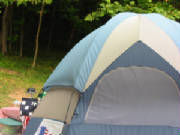 There was no chance to share tent pegs here.

Here are some comments we found on the web that were written by people who stayed here:

1. "Awesome... If you are looking for a semi secluded campground that you don't really see you neighbors and can still hike to a safety pavilion in a few minutes, the top camp grounds are for you.

2. "If you want to hike into a mountain paradise that gives you 4 acres to camp and play in, the bottom sites are exactly what you are looking for. The owner is awesome, won't make fun of you too much if he needs to drive you to the camp site since your car has no ground clearance and is an all-round interesting character.

3. "I am already itching to go back in two weeks. Wildlife, nature, seclusion, and an hour outside of Pittsburgh.

"PS - if you want showers and a pool, YOU ARE NOT LOOKING FOR A CAMPGROUND... Try the Hilton :-) "
4. "Just like their website says, if you're looking for a private place to camp, this is it. The owner was very friendly and accommodating. The sites are wooded and very large. This is not the place to go if you want to be surrounded by strangers and send the kids to the pool for the day. This is the place to go if you want to go if you want a quiet, beautiful place to relax and enjoy being outdoors. I will definitely be visiting this campground again. "
5. "We camped here in Sept.... and fell in love. Just me and my boyfriend. It is so entirely different from any other camp ground I've ever been to. It is rustic and back to basics. I loved not being able to get a shower while camping! It's camping after all. There's a creek if you need to wash.
6. "We stayed at the star dome camp site and it is completely secluded. The only other people we saw were a half a mile away. The hiking trails are amazing, the huge boulders are breath taking, and the views are unimaginable. I am planning on returning in October with a group of people and plan on making this a permenant vacation stop!"

7. "If you are into 'roughing it', you likely won't find a better place for camping. Plenty of space for you and your group (so much space you likely won't see/hear anybody else), and a great atmosphere. One area provides fishing opportunities, while others offer great stargazing. If your idea of camping is sitting in an RV, this isn't for you. If you want to sit around a campfire with some friends (and nobody else), this is right up your alley. Very cheap, too."